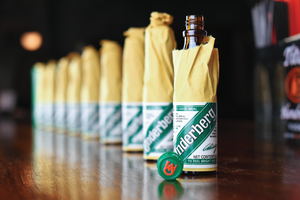 Underberg Is Proof That Good Drinks Come in Small Bottles
This article was first posted by Food & Wine.
What's in those super tiny, wildly bitter bottles, anyway?
When it comes to stocking up on bar cart staples, an eenie weenie bottle of bitters might not be the first thing you gravitate towards. But good things come in small packages, and as Alex Cuper, the beverage director of Chicago's El Che Steakhouse puts it: "Underberg may be the best-kept secret in after-dinner drinks." While only 20 milliliters in capacity, the miniature bottle is loaded with flavor. "It is one of the most ideal ways for me to round out an evening," he says.
---