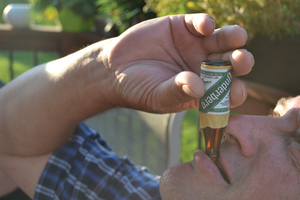 Underberg: The Cultish Digestif That Might Actually Work
This article was first posted by Tales of the Cocktail Foundation.
It all started at the fourth stop on a five-stop, all day bar crawl, when we noticed a little collection of tiny, paper-wrapped bottles hanging on a post behind the bar—and then a question. "Have you ever tried Underberg?" We hadn't, but we did about a minute later. I was glad to have been warned about the strong anise taste (among other wintry bitter flavors) — I've never been a licorice fan — but, like many, we had pretty strong reactions to it: we were about equally split on liking it and hating it. After that day, those bottles started showing up behind bars all around the city. They'd been there before, of course, but their minuscule size makes it easy for the cult classic to go unnoticed. So what's their story? And why do so many who know of them love them so much?
---