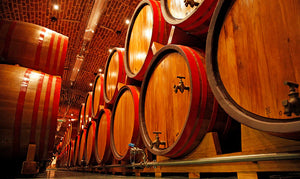 175 Years Old and Not a Bit Boring: The History of Underberg
The Magical Elixir Trusted Around The Globe
The year is 1846, when Hubert Underberg founded the company H. Underberg-Albrecht in Rheinberg in Germany. That same day he married Katharina Albrecht. 
Following its launch, Underberg received many honors, including numerous medals at the World Exhibitions in London, Paris, and Philadelphia. And for five generations, the Underberg family has manufactured its herbal digestive in Rheinberg, according to the secret SEMPER IDEM process. What is known is that Underberg is made of herbs sourced from 43 countries, and have long been trusted by overindulgent eaters all over the world. 
From Rheinberg Germany To The Rest of The World
The unique German bitters first made it to the United States in 1860, with a shipment arriving at a port in San Francisco. During Prohibition in the 1920s, it was still allowed to be brought into the US, since it was technically classified as a food product. Originally, Underberg was sold in various bottle sizes, but by 1949, Hubert's grandson Emil decided in favor of tiny, single-serve 20-milliliter (approximately 0.68-fluid-ounce) bottles to prevent counterfeiting.
In 1867, Hubert Underberg and an Italian glass blower created a tall glass designed to accentuate its herbal aromas, and showcased it at the Paris World Expo. The bespoke glass can still be purchased today. 
Following the launch of the successful TV campaign in 1977, the Underberg jingle, "Komm doch mit auf den Underberg", soon turned into one of the most successful jingles of all time. In keeping with the company principle of SEMPER IDEM, the Underberg song is always the same, but since the 1970's, it has been covered by many different artists.
Save Tops, Collect Swag
In 2002, the Tops & More loyalty program was launched, creating a global community of collectors; by 2011, UB HQ in Germany receives one cap every three seconds, and the number of collectors keeps on growing by the day!
Check out our brand new Tops site to start earning rewards today!
---