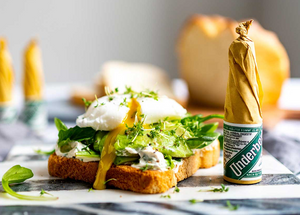 Underberg Avocado Toast With Poached Eggs
PREPARATION
For the easter toast, wash and finely chop chives. Mix cream cheese with chives and Underberg in a bowl. Season with salt and pepper.
Toast white bread until golden brown or toast with a little butter in a pan for a few minutes.
For the poached eggs, carefully crack one very fresh egg into a cup at a time. Make sure the yolk does not melt.
In a saucepan, bring 1 quart of water to a boil with 3 tablespoons of vinegar. Stir the water with a large spoon until a swirl forms in the center of the pot. Then slide the egg from the cup into the whirlpool. After 3 to 4, remove the egg from the water with a slotted spoon or large spoon and drain on paper towels.
Cut avocado in half, remove pit and peel. Cut halves into thin slices.
Spread toasted white bread with cream cheese spread and top with baby spinach or arugula.
Place half an avocado on each toast and fan out. Place poached egg on top of avocado and season with salt and pepper. Top with some cress and serve.
Preparation time: 20 minutes
Nutritional values per serving: 424.2 kcal / 1758.1 kJ
18.0g carbohydrates
9.9g protein
31.8g fat
INGREDIENTS
For 4 servings
4 slices of fresh white bread
4 tablespoons cream cheese
2 avocados
4 eggs
1 cl Underberg
50 g baby spinach or arugula Cress
1/2 bunch chives
3 tablespoons white wine vinegar
salt, pepper
---