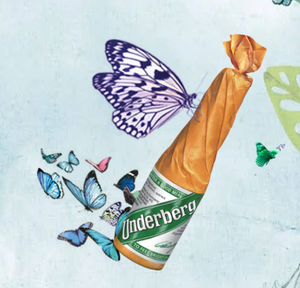 Underberg Sorbet: A Pleasant End To A Big Meal
The holiday season is officially here! That means endless dinner parties and winter get-togethers with the people we love. This holiday season we are introducing the Underberg Sorbet: a refreshing, fruity, and light way to end your meal. It acts as a palate cleanser while giving your digestion a boost to help you feel like yourself again.
Whether you are a seasoned host or taking a shot at it for the first time, this recipe is very easy to make and will be ready in the freezer to serve any time. It's the perfect, stress-free addition to your holiday menu! Gather your friends and family around the table, pour a glass of wine, and serve up something amazing. 
So, what is a sorbet?
Also called "Italian ice" or "water ice," sorbet is a non-dairy frozen dessert made from puréed fruit or fruit juice mixed with water, sugar, and sometimes liquor. Usually stirred while frozen, it becomes nicely cold and creamy.
The secret to a perfect sorbet lies in the quality of the fruits, so be sure to pick the freshest you can find!
We recommend using an ice cream machine for these recipes, but if you don't have one you can place your bowl of sorbet mix into the freezer and "churn" it every 20 minutes until you reach your desired consistency.
Underberg Sorbet Recipes
Choose your favorite recipe and follow the directions below 
Servings: 10 Underberg tall glass portions
Underberg Sorbet Recipe #1
250 ml fresh orange juice 

1/2 fresh papaya 

2 tablespoons sugar 

1 1/2 bottle of Underberg 
Underberg Sorbet Recipe #2
100 g blueberries 

150 g strawberries 

1 apple (grated) 

2 tablespoons sugar 

1 tablespoon cranberries 

3 bottles of Underberg 
Underberg Sorbet Recipe #3
3 Golden Delicious apples 

2 teaspoons of cinnamon 

Juice of one lemon 

2 tablespoons of sugar 

2 bottles of Underberg 
Underberg Sorbet Recipe #4
5 fresh lychees or 1/2 tin lychees without juice 

100 g fresh pineapple 

100 ml rosehip juice 

100 ml ginger syrup 

a few peppermint leaves 

2 tablespoons sugar 

2 bottles of Underberg 
Underberg Sorbet Recipe #5
5 fresh lychees or 1/2 tin lychees without juice 

1/2 fresh papaya

Juice of two oranges 

1 piece root ginger 

100 ml elderberry juice 

2 tablespoons sugar 

2 bottles of Underberg 
Instructions 
Purée the fresh fruits in your blender or food processor.

Add the remaining ingredients, apart from the Underberg, and puree until combined.

While the blender/food processor is running, add the Underberg. 

Add the sorbet mixture to your ice cream machine and begin to churn according to the manufacturer's instructions, OR transfer to a freezer-safe bowl and start the freeze-and-stir process, checking every 20 minutes or so.

Once your sorbet has reached your desired consistency, scoop individual servings into 
Underberg tall glasses and garnish with fresh herbs or fruit peels.

That's it! Berg Sorbet really is as simple as that. 

You can celebrate a single fruit in all its glory or use any combination of fruit your heart desires. You could also try garnishing with fruit, wafers or sweet biscuits, as these will give a contrast in flavor and texture. Now go enjoy your #BergBreak 
---