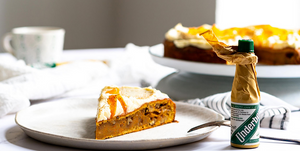 Carrot Cake Recipe With Underberg Frosting
PREPARATION
Preheat oven to 175°C top/bottom heat.
For the dough, peel, wash and finely grate carrots. Coarsely chop walnuts.
Mix flour with baking powder and salt in a large bowl.
Beat brown sugar with eggs in a second bowl with a hand mixer until light. Add oil and mix in. Add vanilla sugar and cinnamon and mix in.
Add dry ingredients (flour, etc.) in batches to the liquid batter and fold in with a dough scraper.
Fold the carrots and walnuts into the batter.
Grease springform pan ( 26 cm Ø), pour batter into the pan and bake the cake in a hot oven for 40-45 min. Test with a wooden stick if there is still dough sticking. If no dough sticks to it, remove cake from oven and let cool completely.
For frosting, using a hand mixer, beat cream cheese with butter, Underberg, sifted powdered sugar and salt until creamy.
Place frosting in refrigerator for 30 minutes.
Top cake with frosting. To do this, use an angled palette, pastry scraper or spoon to spread frosting evenly over cake.
Preparation time: 120 minutes
Nutritional values per serving (1 pc. cake for 8 pcs.): 563.0 kcal / 2344.1 kJ
46.0g carbohydrates
7.8g protein
37.4g fat
Ingredients
For the cake:
300 g grated carrots (approx. 3 large carrots)
170 ml sunflower oil
120 g brown sugar
1 packet vanilla sugar
3 eggs
2 teaspoon baking powder
200 g flour
2 teaspoons cinnamon
80 g chopped walnuts
1 pinch of salt
For the Underberg frosting:
150 g cream cheese
30 g butter, soft
60 g powdered sugar
2 cl Underberg
1 pinch of salt
---