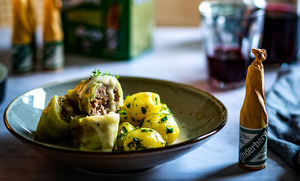 Kale Roulade With Minced Meat Filling, Potatoes, and Underberg Cream Sauce
PREPARATION
Blanch the cabbage in boiling salted water for about 2-3 minutes, then place in a bowl of ice-cold water. Loosen the leaves individually.
Peel onion and chop finely. Heat butter in a pot and fry onion for 1-2 minutes.
Mix minced beef with mustard, breadcrumbs, eggs and fried onions and season with salt and season with pepper.
For the roulades, dry cabbage leaves on kitchen paper. Then add 1 tablespoons of minced meat in the middle of the cabbage leaf. Roll up to a roulade and tie up with kitchen yarn.
Heat rapeseed oil in a large pot. Fry cabbage rolls in it from all sides, top with vegetable stock and cook roulades with closed lid for 20 minutes.
Preheat oven to 80 C°. Take cabbage roulades out of the pot, put them on a plate and keep warm in the oven.
For the potatoes, wash them and cook in boiling salted water for 20 minutes. Wash and chop the parsley. Drain the potatoes and add butter and parsley and mix well.
For the cream sauce add cream, white wine vinegar, Underberg, thyme and bay leaves to the vegetable stock to the large pot. Stir in starch and bring to the boil. Reduce sauce over medium heat for about 10 minutes. Season with salt and pepper, remove thyme and bay leaves and serve the sauce with cabbage rolls and potatoes.
Preparation time: 80 minutes
Nutritional values per serving: 805.9 kcal/3353.3 kJ
40,6 g carbohydrate
35,4 g protein
52.5 g fat
INGREDIENTS
For 4 portions
For the cabbage roulades
1 small white cabbage
1 onion
1 tablespoon butter
1 tablespoon of mustard
500 g minced beef
3 eggs
3 tablespoons breadcrumbs
salt, pepper
2 tablespoons rapeseed oil
600 ml vegetable broth
kitchen yarn
For the potatoes
400 g triplets
15 g parsley
2 tablespoons butter
Salt
For the cream sauce
200 ml cream
2 cl Underberg
3 sprigs thyme
1 tablespoon white wine vinegar
2 bay leaves
1 teaspoon starch dissolved in 3 tablespoons of cold water
salt, pepper
---