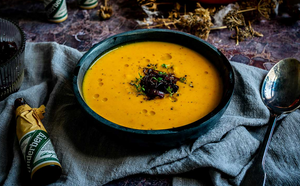 Pumpkin Soup With Caramelized Underberg Onions
PREPARATION
For the soup, peel and roughly chop the onions and garlic. Wash the pumpkin and quarter it with a large knife. Remove pumpkin seeds with a large spoon. Then cut the pumpkin into small pieces.
Heat the oil in a large pot and fry the onions, garlic and ginger. Add pumpkin pieces and fry for 2-3 minutes.
Add Underberg and broth and simmer for about 25-30 minutes until pumpkin is completely cooked.
For the topping, peel onions and cut into fine strips. Heat oil in a frying pan and sauté onions for 1-2 minutes.
Add Underberg and sugar and caramelize onions for 2-3 minutes, stirring occasionally.
Wash parsley and chop finely. Puree the soup finely with a blender, stir in the cream and parsley and season to taste with salt and pepper. Top soup with Underberg onions and e.g. fresh cress and serve.
Preparation time: 30 minutes
Nutritional values per serving: 397.2 kcal/1651.7 kj
Carbohydrates 27,9 g
Protein 8,1 g
fat 25,1 g
INGREDIENTS
Serves 4
For the soup
1 Hokkaido pumpkin (approx. 1000g)
2 onions
4 garlic cloves
1 tablespoon pumpkin seed oil
800 ml vegetable broth
2 tablespoons apple vinegar
2 cl Underberg
15 g parsley
1 tsp freshly grated ginger
200 ml cream
1 pinch of sugar
salt, pepper
For the onions
3 red onions
2 cl Underberg
1 tablespoon sugar
1 tablespoon sunflower oil
salt, pepper
---