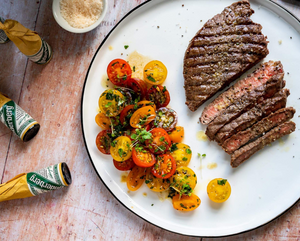 Underberg Steak With Herb Butter, Tomato Salad, and Bread
PREPARATION
For the herb butter, peel the garlic clove and shallot and dice very finely. Pluck the thyme from the twigs. Finely chop the chives, parsley and thyme. Grate the zest of the lemon. Mix the softened butter with garlic, shallot, herbs and lemon zest and season with salt and pepper. Chill for about 1 hour before serving.
For the tomato salad, wash and halve the cherry tomatoes. Finely chop the parsley. For the dressing, grate the zest of the lemon. Mix lemon zest with olive oil, balsamic vinegar and honey and season with salt and pepper. Mix tomatoes with parsley and dressing.
Take beef steaks out of the fridge 2 hours before grilling.
Preheat the grill. Grill steaks on direct high heat (approx. 250-280 °C) for 2-4 minutes. Turn steaks and grill for another 2-4 minutes. To serve the meat medium, it should reach a core temperature of 55-58 degrees. Remove steaks from the heat and let them rest for 10 minutes before cutting them. Serve with herb butter, tomato salad and baguette.
Preparation time: 35 minutes
Nutrition's per serving:
881.2 kcal / 3676.3 kj
35,2 g of carbs
63,4 g protein
33,4 g fat
INGREDIENTS
For 4 portions
For the steak
4 beef hip steaks of 200 g each
salt, pepper
2 baguettes
For the herb butter
125 g butter (room temperature)
1 garlic clove
1 small shallot
1⁄2 lemon
10 g chives
5 g thyme
10 g parsley
salt, pepper
For the tomato salad
300 g cherry tomatoes
70 ml olive oil
1⁄2 lemon
1 tbsp balsamic vinegar
1 tbsp honey
10 g parsley
salt, pepper
---