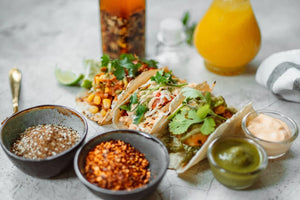 Try This Unique Chicken Taco Recipe With Bitters From Underberg
You want your summer party to be exciting and energetic, so you know your entree should set the mood. However, choosing the perfect dish for the occasion might not be as hard as it sounds with this unique taco recipe with bitters from Underberg. Refreshing ingredients combined with the flavorful punch of Underberg will give your tacos that taste of summer with all the fun of the season!
Anything but boring, this dish is ideal the larger the crowd. For an especially large group, try this taco recipe with bitters on more than just chicken. Don't be afraid to lay out a variety of toppings: sweet, savory, tangy, and spicy.  Before the party, get a little experimental yourself, and see what kind of sauces you can whip up with the marinade ingredients!
Ingredients: 
(Makes 4 tacos)
2 cups shredded chicken

1 red bell pepper, thinly sliced

1 yellow bell pepper, thinly sliced

1 green bell pepper, thinly sliced

½ white onion, thinly sliced

1 tablespoon olive oil

1 Underberg bitter

1 teaspoon chili powder

½ teaspoon cumin

1 teaspoon salt


½ teaspoon black pepper

4 corn tortillas


Sour cream, for topping
Preparation:
Preparation time:

30 minutes 

Nutritions per serving:

282 cal,  22 g carbohydrates 25 g protein

For the chicken sautee:

In a large, nonstick skillet, heat the olive oil and Underberg over medium heat. Toss in the onions, bell peppers, salt, chili powder, cumin, and black pepper, and sauté until the onions and peppers have softened. Add in the shredded chicken and toss until everything in the pan is evenly coated and warmed through. Pour the chicken mixture into a large serving bowl . 

For the tortillas

Toast the tortillas in the seasoned pan, about 3 minutes per side. Divide the mixture evenly between tortillas, top with a drizzle of sour cream, and serve. Enjoy!
After you devour this chicken taco recipe with bitters from Underberg, try it out on pork or beef! Or if you're looking to switch it up, head over to our blog to find more recipes.
---