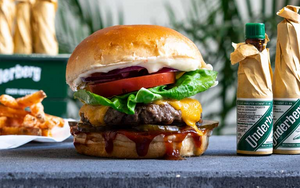 Underberg Burger With Sweet Potato Fries
PREPARATION
For the Underberg BBQ sauce, mix all ingredients in a saucepan, bring to the boil and simmer for 2 minutes, season with salt and pepper.
For the fries, peel the sweet potatoes, cut them into thin strips and then place them in a bowl of cold water for 20 minutes. Rinse the potato strips and pat dry. Preheat oven to 220 °C convection oven. Roll the fries in starch. Then mix with oil. Place on a baking tray lined with baking paper and bake in the hot oven for about 30 minutes until golden brown. Turn the fries halfway through. Salt well.
For the Burger Patties, fry on a hot grill for about 3 minutes on both sides. Place the cheddar on the patties and place them in the indirect zone. Cook with the lid closed to the desired core temperature.
Pluck lettuce into individual leaves and wash, wash tomato and cut into thick slices. Peel and slice the onions. Halve Burger Buns, spread the lower side with BBQ sauce, the upper side with mayonnaise. Cover buns with lettuce, tomatoes, cucumber slices, onions and patties and serve with sweet potato fries and BBQ sauce.
INGREDIENTS
For 4 portions
For the burger
4 burger patties
4 burger buns
1 beef tomato
1⁄2 lettuce
1 red onion
80g pickled cucumber slices
4 slices of cheddar
4 tablespoons mayonnaise
For the BBQ sauce
200 g ketchup
2 tbsp brown sugar
1 tsp cider vinegar
1 tbsp Worcester sauce
1 tsp paprika powder
1⁄2 tsp Cayenne pepper
4 cl Underberg
salt, pepper
For the sweet potato fries
3 sweet potatoes
1 tbsp of cornflour
2 tbsp of olive oil
Salt
---