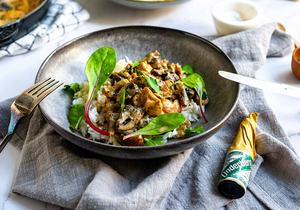 Underberg Chicken Stew With Rice
PREPARATION
For the sliced chicken, wash and pat dry chicken breast, cut meat into 1 cm wide strips.
Peel onion and chop finely. Clean mushrooms and cut into quarters. Heat canola oil in large deep skillet. Add onions to pan and sauté until translucent. Add chicken and sauté over medium heat for 4-5 minutes. Add mushrooms and sauté 1-2 minutes.
Add cream, broth and Underberg and simmer for about 10 minutes.
Wash and finely chop parsley. Add lemon juice and parsley to the cutlets, stir in and season everything with salt and pepper.
Put rice in a pot with 320 ml lightly salted water. Put the lid on and bring everything to the boil. Then simmer over low heat until the liquid is absorbed (see package).
Serve the Underberg stew with rice.
Preparation time: 25 minutes
Nutritional values per serving: 560.1 kcal / 2337.8 kJ
29.2g carbohydrates
34.8g protein
32.1g fat
INGREDIENTS
For 4 servings
500 g chicken breast
1 onion
150 ml vegetable broth
400 ml cream
1 bunch of parsley
juice of 1⁄2 lemon
150 g mushrooms
2 cl Underberg
1 tbsp rapeseed oil
320 g rice
salt, pepper
---