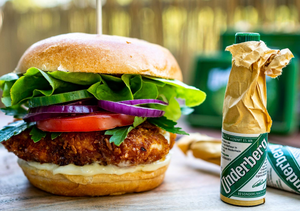 Underberg Crispy Chicken Burger
PREPARATION
For the Crispy Chicken put Cornflakes in a plastic bag and crush them with a rolling pin. For breading, whisk eggs, add salt, pepper and chili and mix well. Place the eggs, flour and cornflakes on separate plates.
Rinse chicken breast fillets under running water and pat dry. Then flatten them. Place some cling film on the breast fillets and beat the meat slightly flat with a flattener. Cut the chicken breast fillets in half crosswise. First turn into flour, then into the egg and finally into the cornflakes.
Preheat the grill (160-180 °C). Pour sunflower oil into a cast iron mold and heat over direct heat. Fry the chicken breast fillets in the hot oil for approx. 7-8 minutes until golden brown and the core temperature is 73 °C. Turn several times when deep-frying.
Pluck lettuce into individual leaves and wash, wash tomato and cut into thick slices. Peel and slice the onions. Wash cucumber and cut into thin slices. Halve the burger buns, spread mayonnaise on the upper and lower sides. Cover buns with lettuce, parsley, tomato, cucumber slices, onions and crispy chicken and serve.
Preparation time: 45 minutes
Nutrition's per serving:
887,9 kcal / 3691,2 kj
41,5 g carbohydrates
33,4 g protein
64,5 g fat
INGREDIENTS
Serves 4
For the Crispy Chicken
2 large chicken breast fillets
2 eggs
80 g flour
1 tsp salt
1 pinch of pepper
1 tsp chili flakes
150 g cornflakes (unsweetened)
300 ml sunflower oil
For the burger
4 burger buns
1 beef tomato
15 g parsley
1⁄2 Lettuce
1 red onion
8 tbsp mayonnaise
1⁄4 Cucumber
---