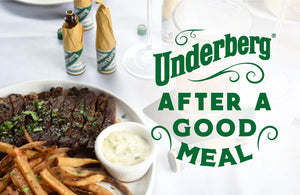 An Underberg Dinner Party: The Perfect Nightcap
It's the season to be merry, and that means reunions, an Underberg dinner party (or multiple), and a lot of overindulgences! If you are a seasoned host - or a first-timer - ending your night with an Underberg herbal digestive will have your attendees thanking you and impressed! 
UNDERBERG: THE PERFECT NIGHTCAP
When you're hosting guests for dinner, giving them something at the end of the evening makes you look like the most prepared and thoughtful host.
Underberg makes an otherwise ordinary meal special.  Its tiny, paper-wrapped single-serve 20-milliliter bottles with a hexagonal neck look like little presents and will make an impression on your guests. And more importantly, the herbal concoction within contains a portion of wellbeing, perfect for evenings when you've overindulged.
SETTLING STOMACHS WITH STYLE SINCE 1846.
On June 17, 1846 Hubert Underberg did two things at the Town Hall in Rheinberg, Germany : He married Katharina Albrecht, then he established the Underberg-Albrecht Company. Hubert set on a quest to create a herbal digestive which would be true to the motto: "Semper idem," or, "Always the same," when it comes to the digestive effect and the quality.
After experimenting with the recipe for years, Underberg finally settled on the distinctive combination of herbs sourced from 43 countries. Today, this amber-colored elixir has become the world's most famous bitters and a go-to as a remedy for the consequences of a heavy meal.
HOW TO DRINK UNDERBERG
Underberg is not to be sipped, but taken all at once and quickly.  After a delicious meal, enjoy an Underberg straight from the bottle: rub the bottle between both hands (to loosen its brown paper covering),  then unscrew the cap and take Underberg in one single shot. These 20ml bottles guarantee that you're getting the perfect amount of herbal goodness each time.
Underberg is a truly delightful way to enjoy the after-meal experience with just the right finish for a clean refreshing treat for your pallet. It leaves your breath fresh smelling while aiding with digestion. No good meal should be without it !
---