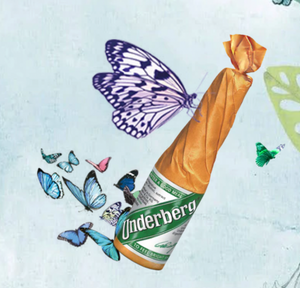 Summer Grilling Recipes With Bitters From Underberg
Everyone is getting in the last of their summer grilling but when you have a secret ingredient up your sleeve, it's easy to make your last grill-outs memorable. 
While ordinary marinades are always great, adding Underberg lends a bold, unique flavor that goes great with pineapple and citrus marinades. 
And you can grill more than just meat, seafood, or tofu with Underberg! It's perfect in marinades for vegetable kabobs, peppers and onions, and more.
There are infinite marinade combinations, but the most amazing Underberg marinades are the ones that are paired with a light summer side to give the bold flavors some room to shine!

TENDER UNDERBERG PORK BELLY WITH MANGO-CUCUMBER SALAD
PREPARATION
For the pork belly, peel and roughly chop the garlic and onion. Cut carrots and celery into pieces. Carve the skin of the belly into a diamond-shaped pattern. Grease the grill tray.
Heat up the grill to 180 °C. Add vegetables, sugar, onions, garlic, soy sauce, rice vinegar, Underberg and cinnamon to the dish and mix. Place the pork belly on top and pour water over it until it is covered to 2/3. Cover the dish with aluminum foil and cook the meat in the indirect grill for about 2.5 hours. Remove meat from the tray, dab dry and grill crispy on direct heat for a few minutes. Turn several times. The meat should have a core temperature of 75 °C.
For the sauce, pass ingredients from the grill tray through a sieve and pour half of the liquid collected into a pot. Reduce the sauce over medium heat. If necessary, thicken with starch. Cut belly meat into small pieces and toss in sauce. Season with salt and pepper.
For the salad peel cucumber and mango and cut into cubes. Wash herbs and chop finely. For the dressing, mix all ingredients and season with salt and pepper. Mix salad with dressing and serve with pork belly.
Alternatively, you can cook the pork belly in a roaster on the stove. Heat 1 tablespoon of cooking oil in a roaster and fry the meat on all sides. Add sugar and vegetables, fry meat on medium heat for about 30 seconds on each side until crispy. Deglaze with soy sauce, add rice vinegar and Underberg and top up with water until the meat is covered to 2/3. Cook over a low heat for about 2 hours with the lid closed. For the sauce, pass the ingredients from the roaster through a sieve and pour half of the collected liquid into a small pot. Reduce the sauce over medium heat. If necessary, thicken with starch.
INGREDIENTS
For 4 portions
For the pork belly
700 g pork belly
2 tbsp brown sugar
3 cloves of garlic
150 ml soy sauce
80 ml rice vinegar
4 cl Underberg
1 tsp cinnamon
2 carrots
1⁄4 Celery
2 onions
Water
For the salad
1 cucumber
1 mango
1⁄2 bunch of chives
1⁄2 Bunch of mint
For the dressing
4 tbsp soy sauce
2 tbsp of olive oil
1 tbsp rice vinegar
2 tsp sesame seeds
1 tsp honey
salt, pepper

GRILLED PORK NECK STEAKS MARINATED IN UNDERBERG
METHOD
In a bowl, blend ginger, chili, lemon grass, garlic, green peppercorns, Underberg, acacia honey, sweet soy sauce, Kikkoman soy sauce, and sesame oil until honey is completely dissolved.
Now place steaks in marinade. Cover and place in fridge.
Grill for at least 5–6 minutes on each side over medium heat.
Tip I: do this one day prior to your BBQ.
Tip II: sweet soy sauce and honey have a tendency to become dark or black, so make sure to use low or medium heat only. Just give the steaks a little more time.
Marinade for 12 hours
Preparation time: 20 minutes
Cooking time: 10 minutes.
INGREDIENTS
4 Spork neck steaks, approximately 250 g each
FOR THE UNDERBERG MARINADE
70 g fresh ginger root, peeled and finely sliced
1 red bird's eye chili, finely sliced
4 stalks lemon grass, finely sliced
8 cloves of garlic, peeled and finely sliced
2 sprigs of fresh green peppercorns, removed from stems
2 bottles Underberg
200 g acacia honey
250 ml sweet soy sauce
250 ml Kikkoman soy sauce
1 tablespoon roasted sesame oil
STEAK/CHICKEN MARINADE.
Serves 4
Ingredients 
2 ounces of bourbon butter 
¼ cup ​brown sugar
¼ cup ​orange juice
1 teaspoon Underberg bitters
1 tablespoon cherry preserves
1 tablespoon fresh ginger, minced​​
​1 teaspoon cracked black pepper​
1 tablespoon fresh garlic, minced
1 teaspoon​ tamari
Choice of meat (either steak or chicken)
Preparation: 
Preparation time: 3 hours (or overnight + grill time)
Mix ingredients and soak your favorite steak (or chicken) for three hours, or overnight, in the refrigerator. Then grill to desired texture, and enjoy!
GRILLED MARINATED SALMON WITH HERB BUTTER
For the herb butter:
½ cup of margarine or butter, softened
1 teaspoon Dijon mustard
2 tablespoons minced green onion, including tops
2 tablespoons minced fresh parsley
1 tablespoon minced fresh tarragon
For the salmon:
8 salmon fillets

½ cup canola oil

⅓ cup soy sauce

1 teaspoon of Underberg

¼ cup fresh lemon juice

1 teaspoon lemon zest

½ teaspoon minced fresh garlic

¼ teaspoon freshly ground black pepper
Preparation: 
Preparation time: 1 hour 45 minutes
For the herb butter, in a small bowl, combine margarine, mustard, onion, parsley and tarragon. Set aside for flavors to blend. 
For the salmon, combine oil, soy sauce, Underberg, lemon juice, zest, garlic and pepper in a small bowl. Reserve 1/3 cup. Place fillets in a single layer in a shallow baking dish. Pour remaining marinade over them. Marinate in the refrigerator for 45 minutes, turning once. Place fillets in a well-greased hinged wire grill. Cook about 4 inches from heat until done on one side, about 6 minutes. Baste top side with reserved marinade and turn. Cook until done, about 6 minutes. Place on a serving dish and spread with Herb Butter.
---