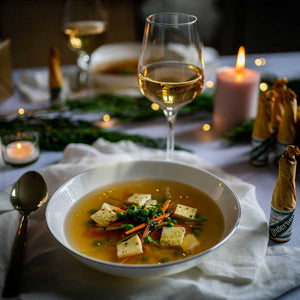 Underberg: Not Just After Meals
The famous phrase goes: "Unwrap With Pleasure After a Big Meal". People around the world trust the unique properties of Underberg, and enjoy the Rheinberg herbal elixir as an after-dinner digestive. But did you know that you can also enjoy Underberg Herbal Bitters before your meal?
Make Bitters A Habit With Underberg
Underberg bitters have been settling stomachs since 1846 - before and after big meals-  by kick starting the digestive system and aiding the absorption of food. 
Made from a selection of the finest aromatic herbs from 43 countries and aged in slovenian oak, each 20ml Underberg bottle is always exactly the right portion for well-being. The result? feeling bright and alert, naturally!
Underberg: The Secret Ingredient To Your Appetizers
Nothing makes a good day even better than easy recipes like this creamy, simple, and satisfying pumpkin soup with caramelized Underberg onion; and you probably almost always have everything on hand for Grandma's beef broth.
You can never go wrong with a fresh Lambs lettuce with mushrooms and figs salad, or a Grilled flat bread with guacamole, herbs, olives and feta - a crowd favorite! 

Or, if you are feeling extra special, try our Berg Sorbet recipe - a refreshing, fruity, and light way to start your meal!. It acts as a palate cleanser between an appetizer and a main course, while giving your digestion a boost to help you feel like yourself again.
---